15-Minute FrightCast - "The Evil Dead" (1981) / Special Guest: Chad Haufschild
1 year ago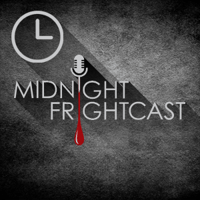 BONUS EPISODE! — Patrick has a new guest in the Zoom Studio, fellow filmmaker Chad Haufschild, to cover the 1981 cult classic, "The Evil Dead". It was hard to fit the review into 15 minutes, but we did it (sort of). Why don't you come and ... Join Us!
Subscribe to the FrightCast at midnightfrightcast.com.
Please Subscribe, Rate, and Review the Midnight FrightCast to help more people discover us, and possibly to win some cool merchandise!
Follow us!
Check out our podcasting host, Pinecast. Start your own podcast for free, no credit card required, forever. If you decide to upgrade, use coupon code r-3d68c4 for 40% off for 4 months, and support Midnight FrightCast.